One-time development project in Senegal
Private fundraising - 2020
CONNECTING THE SCHOOL TO WATER FROM A NEARBY WELL – WATER AND SANITATION REHABILITATION (sn20-1)
One-time development project for a primary school
Beneficiairies: 680 children and 15 teachers in Keur Samba village, Mbour
Local managers: Mr Mademba Diop, agronomist, Pres. of the school management Committee; Mr Sall, school director.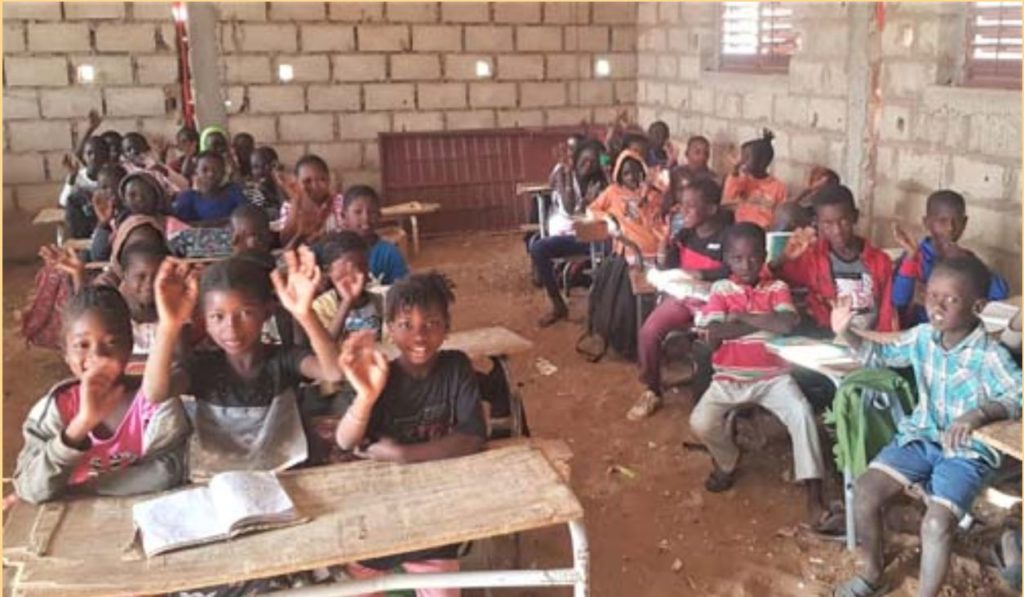 BUDGET
Plumbing
PVC pipe 25mm, length 200m = donated
Immersion pump = 140 000 FCFA = 215 EUR
Electrical connection = 40 000 FCFA = 62 EUR
Accessories and supplies = 95 000 FCFA = 146 EUR
Workmanship (3 days, 2 pers.) = 80 000 FCFA = 123 EUR
SUB-TOTAL PLUMBING = 355 000 FCFA = 545 EUR
Rehabilitation works
(Rehabilitation of toilets and bathrooms, emptying septic tanks,
renewing floors, securing the site)
Equipment = 149 000 FCFA = 201 EUR
Workmanship = 80 000 FCFA = 120 EUR
Emptying septic and unclogging = 50 000 = 75 EUR
Local coordination = 30 000 FCFA = 45 EUR
SUB-TOTAL REHAB WORKS = 279 000 FCFA = 464 EUR
Project set-up, management and follow-up = free
100% of collected funds go to the field
GRAND TOTAL = 1 009 EUR

_________________________________________________________________
DESCRIPTION

The 12 classes with 680 children of the Keur Samba Laobé public school in the Municipality of Malikunda have no access to water. They have to leave the school compound individually, cross the square and ask for water from neighbors.
This is the case for drinking water but also for the water necessary for their hygiene. The school has toilets but no water…
Although this is a public school created in 1998, the State does not have the means to support its development. It should receive an annual State subsidy in October, but it has not been paid so far. Aid is therefore necessary to meet its basic needs. Tuition fees are 1,500 FCFA / year (2.30 euros) but only 65% ​​of parents can afford it.
A well is located within the school compound but it is dry. It will have to be dug out eventually. In the meantime we can connect to a nearby well. See project below.
Given the modest amount of this project, this fundraising will be done among our private network of friends and acquaintances.
THE CRECHE…
The crèche housed within the school consists of a room with corrugated iron roofing, sand flooring, a few carpets on the floor and two window openings… It is comprised of 40 children and 3 teachers. Any surplus collected will be used to provide it with basic equipement, toys / games and teaching aids.
OTHER NEEDS…
Access to water is not the only need in the context of this school… There are only 175 benches seating 325 children out of 680, the classrooms are dilapidated, there is no equipment (whether sports or educational). There is no teacher's room, there are no computers, there is no internet access, no library, etc.
***********
LOCALISATION
The rural Municipality of Malikunda where the school is located is close (2km) to the town of Mbour with its 770,000 inhabitants and to Saly with its seaside tourist resorts. But it does not benefit from this neighbourhood. The area remains rural and destitute as if isolated from its richer neighbouring municipalities.
https://goo.gl/maps/FBipzR4TCgDLHp2w9
The Municipality of Malikunda is home to 40 schools like this one. The Keur Samba Laobé school is ranked 4th best with a 72% success rate.
OUR PROJECT
For 1000 euros, we propose to fit a submersion pump in a nearby well and to convey water directly to the two units of toilets and bathrooms (distance: 200m) and to provide taps. It will also be necessary to renovate the toilets, replace the damaged bowls and empty the septic tanks. One also needs to install doors, repair the roof, the gate of the school compound and secure the compound  (against acts of vandalism).
This represents the first essential phase of requirements.
Any surplus fundraising will go to the other needs described above (in particular the equipment of the crèche). The corresponding accounts and expenses and a completion report will be published on this page.
NATIONAL CONTEXT
Senegal is 166th out of 189 in the world index of human development. It is 33rd out of 53 on the African continent, close to the score of Sudan and Madagascar. By way of comparison, Mauritania and Madagascar have a higher index (source UNDP). The youth represents more than 50% of the population. Its very high illiteracy rate is 43% (66% among women). Its GDP per capita is 163rd out of 195, with 2,570 USD / year, or $ 7 / day with a growth of 7% per year. But its distribution is highly uneven, 5% of households benefiting from 47% of the national income. By comparison, France is 31st, the United Kingdom 29th and Switzerland 9th. In 2016, the average salary was $ 80 / month, the African average being $ 156 and the world average of $ 858. In 2016, out of 16 million inhabitants, the population living below the poverty line was 7 million. In rural areas, 2 out of 3 inhabitants live below the poverty line. 70% of the population works in agriculture.
LINKS
> photo album
> map
> localisation on Google Maps
THIS PROJECT IS CLOSED!
Completion report due in march 21
Total budget:
1 009 EUR
Any excess will go to the equipment of the crèche and the
classrooms.
Your donations will be credited to the association's Paypal account and will be transferred to the School management Committee. We will personally do the project follow-up.
A link to the project's completion report with accounts and photos will be published on this page and the info circulated (also on Ushagram Suisse Association Facebook page).
Founded in 1999, the Ushagram Suisse Association, is a Swiss State recognised public charity.